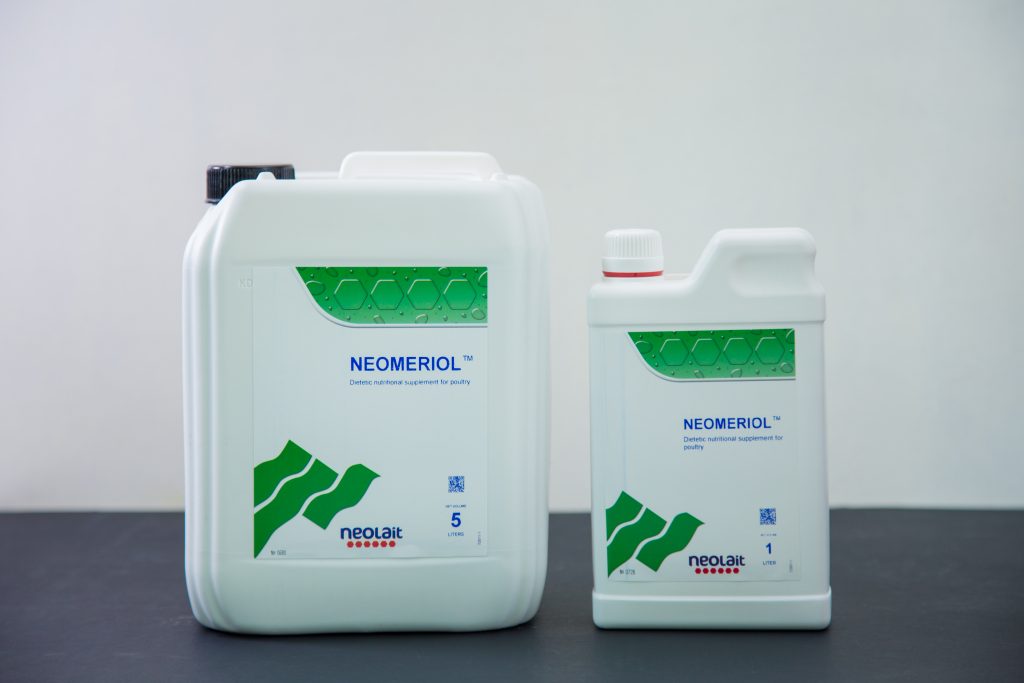 DESCRIPTION
Hepatic regulator for poultry with hepato protective and detoxifying properties. Digestive and diuretic stimulant.
INDICATIONS
Regulation of hepatic, digestive and kidney functions, high nitrogen diets, insufficient water consumption, loss of appetite, asthenia, constipation of young animals, improvement of efficiency during force-feeding and fatty degeneration of the liver of laying hens, diuretic.
PRESENTATION
Liquid in 1L and 5L drum
INGREDIENTS
Sorbitol, Choline Chloride, Methionine, Magnesium Chloride, Lysine HCL, Plant Extracts (Boldo, Cynara), Demineralized Water (qsp 1 liter)
DIRECTIONS FOR USE
NEOMERIOL is diluted in drinking water: 1ml per liter. The treatment must be given for 3 to 5 days. In case of serious situation, the dosage can be doubled (2 liters per 1000 liters).
NEOMERIOL is particularly recommended:
• For day old chicks to stimulate appetite
• For feeding blockage / feed transition (especially after starter feed and growing feed)
• For overworked liver after medical treatment
• For fatty liver
• For constipation
• For forced feeding (ducks and goats)
SHELF LIFE
18 months
MANUFACTURED BY: Neolait (France)