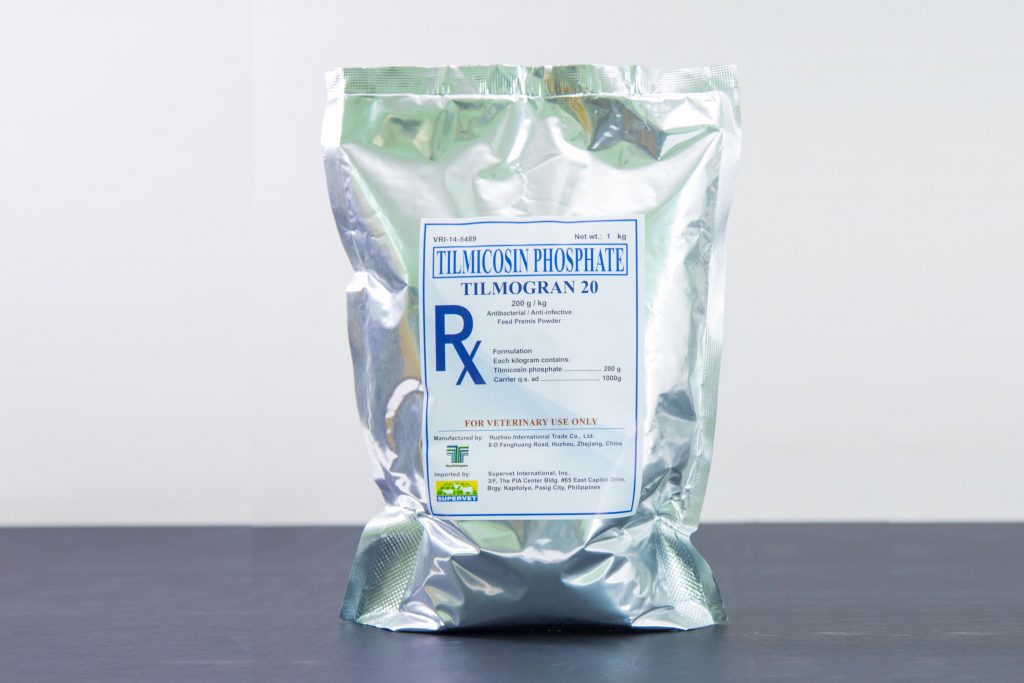 FORMULATION: (Per kg)
Tilmicosin Phosphate — 200 g
ADVANTAGES OF USING TILMOSIN 20%
Can achieve high antibiotic levels in the lung macropages – 185 times higher than in the blood;
High residual activity or post-antibiotic effect;
Reduces the clinical effects of PRRS virus infection.
INDICATIONS
For treatment and control of swine respiratory infections associated with Actinobacillus pleuropneumoniae (APP), Pasteurella multocida, Haemophilus parasuis (HPS), Actinobacillus suis, Streptococcus suis and other bacteria sensitive to Tilmicosin.
RECOMMENDED MEDICATION PROGRAMS AND DOSAGE
Growing Pigs: Medicate at least 1 week before anticipated outbreak of respiratory disease and continue for 14-21 days, at 200-400 ppm or 1-2 kg per MT feed.
Sows and Gilts about to farrow: Medicate about 1 week before expected date of farrowing and continue throughout the lactation period at 200 ppm or 1 kg per MT feed, to prevent transmission of respiratory pathogens to the suckling piglets (Clean Sow Program).
PRESENTATION
Box containing 2 x 10kg Bags
MANUFACTURED BY: Huzhou International Trade Co. Ltd (China)